Apexus Tadpole Review
by Sir Aeon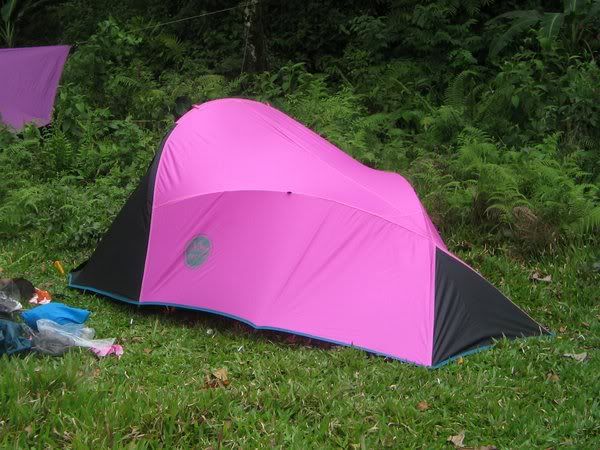 Apexus Tadpole Review, part 1
There are quite a few benefits of purchasing an item directly from its manufacturer compared to availing it in established outlets. Economically, a few hundreds can be saved; and there is the rare intangible of interacting with the manufacturer face-to-face, which adds to your confidence over the product growing every second spend dealing with him.
Such was my experience with Mr. Terry Villas, an exponent of mountaineering activities and the architect of Apexus Outdoor Equipment, when I purchased the Apexus Tadpole – obviously what this review is all about. I have a Coleman Peak1 Sundome tent that sleeps two people but is definitely not suited for my Mt. Apo endeavor as I need a lighter and more aerodynamic home away from home.
Fully aware that the Apexus Tadpole is proudly Philippine-made, I was initially set on bagging one; for at last aside from Sandugo, I have another locally made product that I can be proud of. However, the color that caught my attention – the Pink+Black combo – was not available during my first inquiry; and seemed like it's next to impossible to produce one before my date with Mt. Apo (at least that's how Sir Terry made it sound like).
With the power of the internet at my disposal, I scouted for an alternative. Coleman Exponent Avior X1? Not available locally as of the moment. Conquer Tadpole? Good but too big for my preference. Mountain Hardware Viperine 2? Too pricey for me. How about The North Face Tadpole 23, the one that started it all? Luckily found a second-hand item with minor damage on the flysheet pegged at almost the same price as the Apexus'. Nonetheless, some inquiries concerning the item were never satisfied (for goodness sake, it was damaged so I have to make sure before I make a move, right?) so I scratched it off my list.
As the days inched closer, I've finally decided to go back to my first option – the Apexus Tadpole – only that I have to settle with the All Black offering. I popped a message to Sir Terry's Multiply site (http://apexus.multiply.com) just to inform him that I'll be purchasing an Apexus Tadpole. And jokingly remarked that I hope a Pink+Black combo will be available.
Guess what? Well, tt's still not available. But a Black+Pink combo was! No matter, as long as the shade of pink is in there, consider it mine!
FYI: [Color1]+[Color2] combo is the color of the flysheet where [Color1] is the dominant color and [Color2] is just the accent color.
Off I went to Sir Terry's, exactly six days before our climb. When I finally got there, I was told that the Black+Pink combo was reserved to another buyer. Awww. Actually, the buyer reserved two color options (Baby Blue being the other) but will only purchase one, depending on which color suits her taste. Sir Terry and I were not sure what her choice would be but I was sure that I will go home empty-handed that day. Being customer-friendly that he was, Sir Terry assured me that a Black+Pink tent will be made available for me within the week so I opted to pay him in advance and anxiously waited for the days to further inch some more.
Two days later, I received a text message saying that my tent was available and ready for pickup! The buyer eventually picked the Baby Blue colorway and, although another travel was made, I was still thankful that the Black+Pink was really meant for me.
Sir Terry gave me all the basic knowledge needed to properly pitch and strike this tent. He's very accommodating and energetic despite the fact that I came late that night just to get my items. Aside from the tent, I went home that night with an Apexus Tadpole-tailored footprint and raincover, filled with excited for my upcoming activity. Four days to go!
Materials and Initial Pitching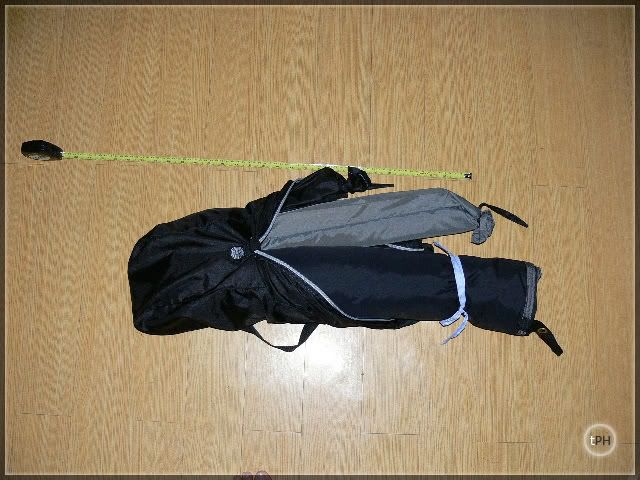 Unlike when you obtain the Apexus Tadpole in sports outlets, direct purchase from Sir Terry will not come with the marketing box; instead, a custom-made stuff sack packs this tent as you carry it home.
To gain familiarity with the pitching and striking and storing of my new tent, I gave it a try right in the smack of our little sala.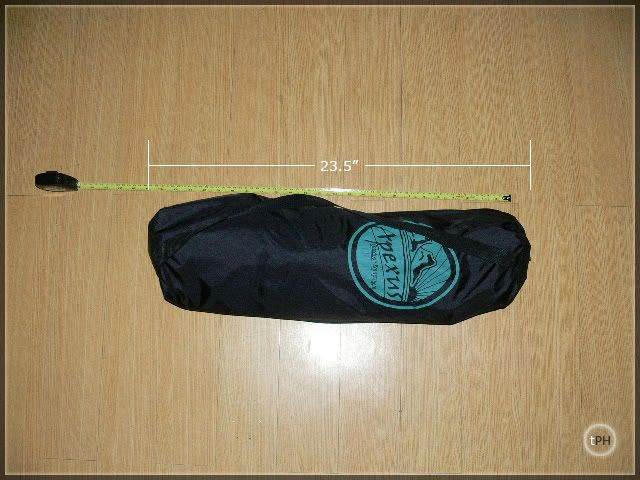 The stuff sack measures 23.5", although the tent (minus the poles) can be reduced to a much minimum length (as will be shown later)
Folded poles measure 17.5" and a dozen peg, each measuring 6.5"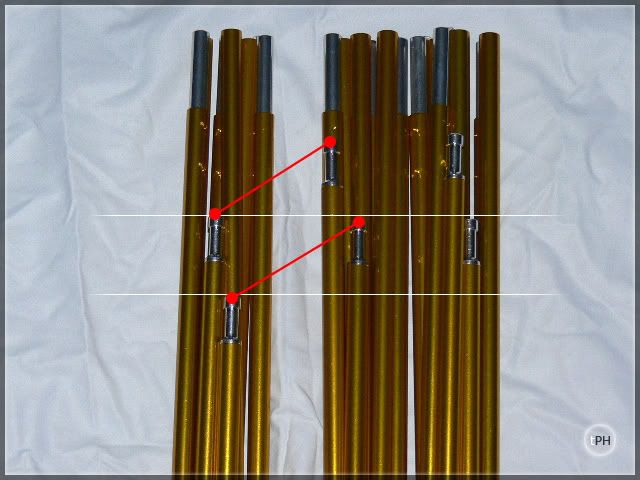 Note that one of the folded poles is a bit smaller compared to the two; this serves as the 'doorway' pole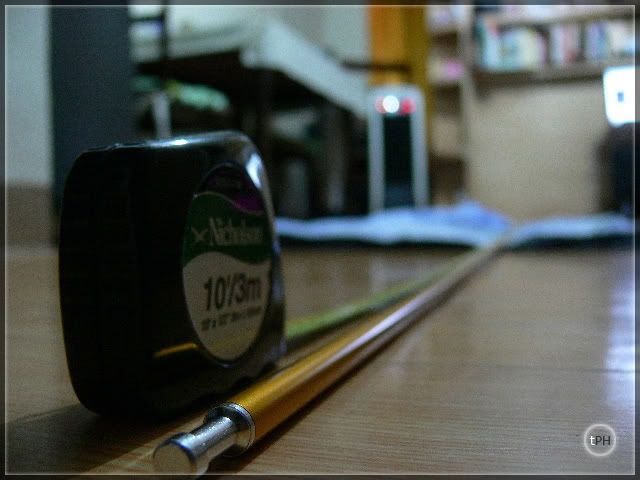 The two crossing tent poles extend to 122", while the 'doorway' pole is 2.5" shorter
Being accustomed to Coleman Sundome tent, the poles were surprisingly lighter, weighing nearly the same as my Coleman flysheet (well, in my own opinion, at least). Sir Terry informed me that these suckers were made out of aircraft-grade aluminum. They boast of locking tips, sturdy shock cords inside and gold-plated finish outside.
Pegs were made of solid aluminum, thicker than my Coleman's. The ends were blunt to ensure that they will only be used for keeping the flysheet attached to the ground and not for whatever purposes.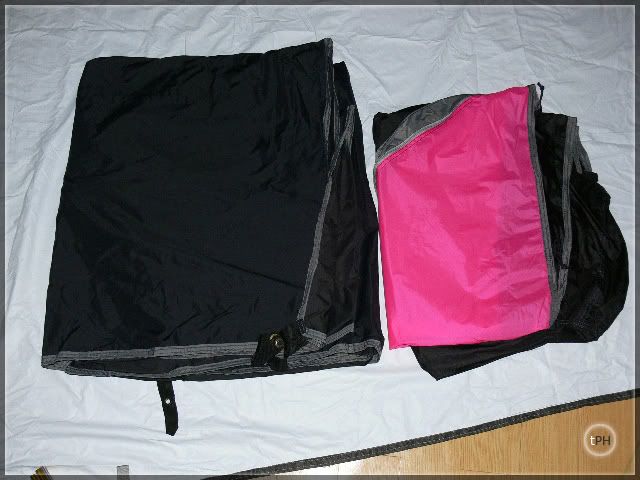 Tent body, left; and the flysheet, right
Tent body was ultra-light, and lined with fine mesh screen in the middle to aid in air circulation thus avoiding moisture build-up inside. Entry door is 2-layered U-shape that could either be set to mesh or covered via 'roll-up and tie' procedure. Yes, you have to tie it unlike in my Coleman tent, 'just roll-up and hook' procedure. Apexus could definitely improve on this one.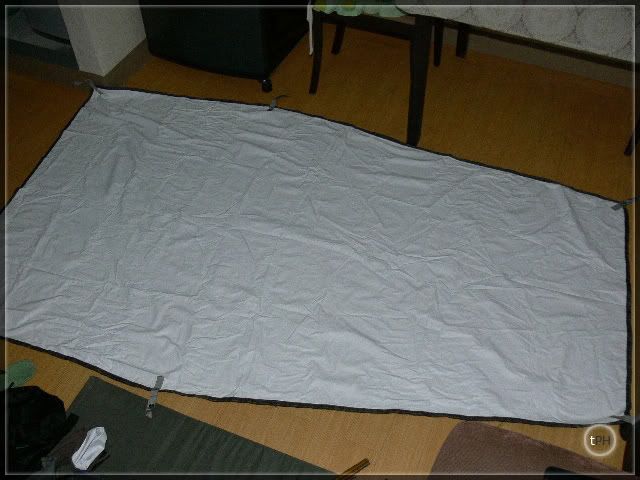 Footprint made exclusively for the Apexus Tadpole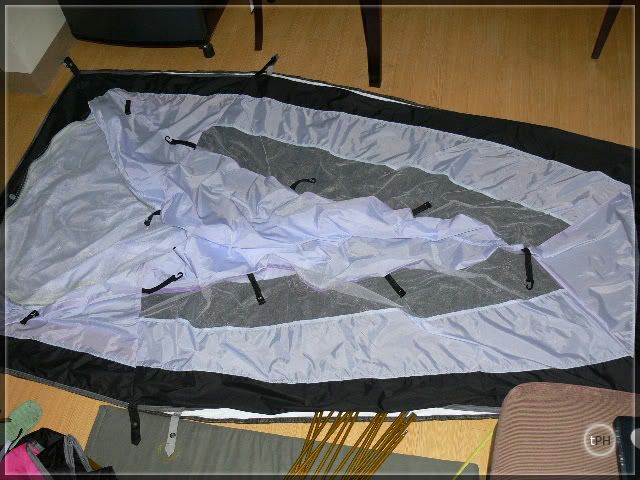 Marriage of the tent body and footprint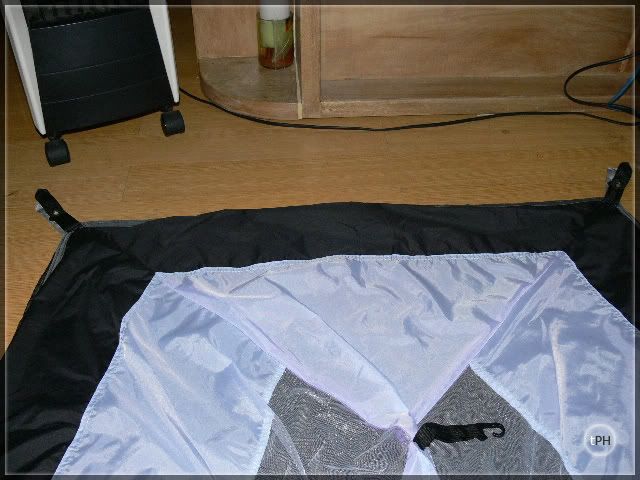 Footprint almost compliments the tent body. Almost... (check Initial Impressions)
The floor is thin, making the footprint a 'must have' especially on rocky terrains. Living room area will definitely vary from one person to another, though it suits my preference just enough. Although the headroom is a little bit low, then again its main purpose is to duck against strong winds.
Flysheet was made of material with scent reminiscent of a freshly-opened raincoat. That alone served as my assurance that it was indeed made of water-resistant fabric. Due to the limited space of our sala, I cannot properly place a conclusion about the vestibule area as per this section. You may refer to the actual field test in the latter part of the review for further information.
Once properly pitched, the free standing tent looks welcoming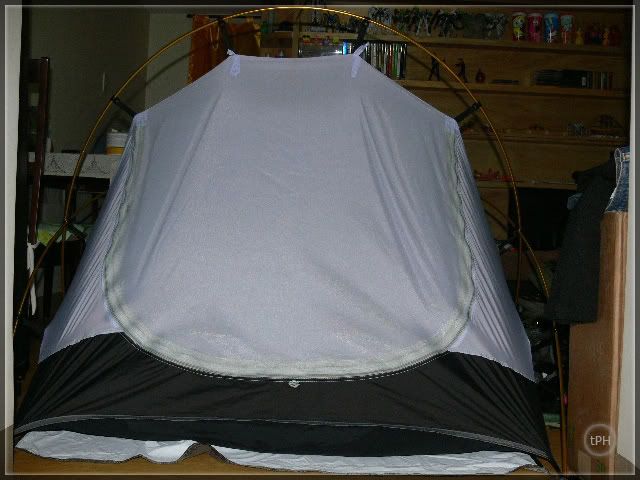 U-shaped entrance, private mode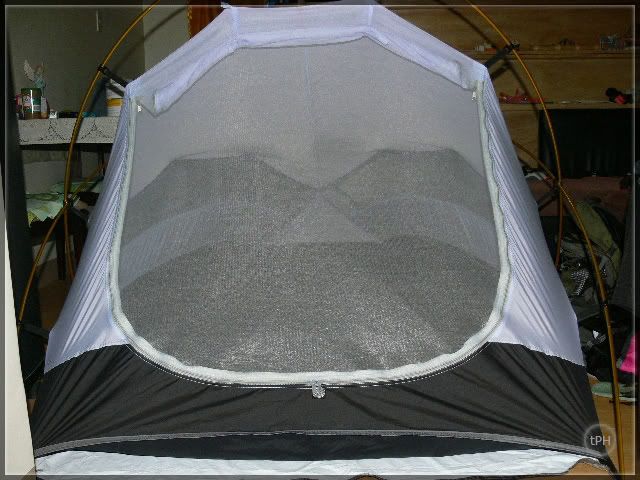 U-shaped entrance, take a peek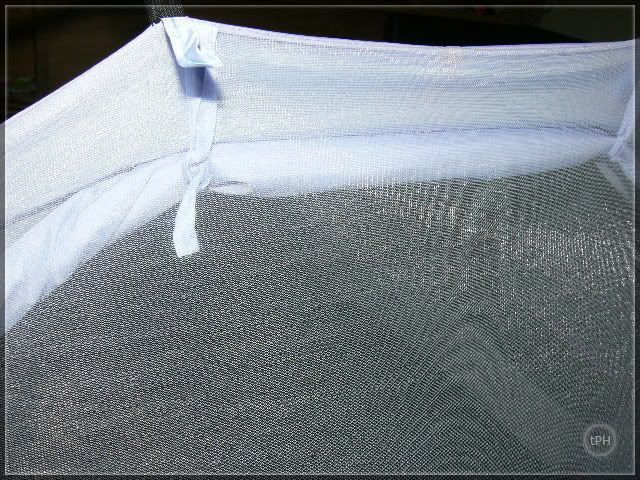 Roll-up and tie 'curtain'
Storage and Initial Impressions
From the initial packaging size of 23.5", I was able to reduce the tent packing size to 10". The tent fitted perfectly in my backpack, along with the poles inside. The estimated weight was less than 2kilograms for the tent body and the poles.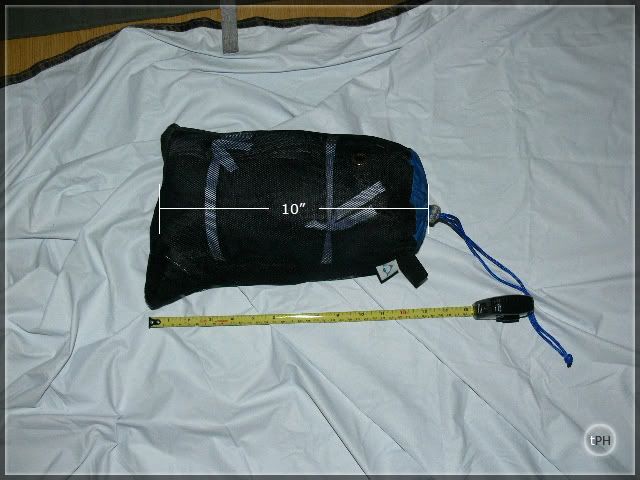 Backpack-friendly compression
It was hard to gauge the Apexus Tadpole at this stage given that I've pitched it just within our cramped sala set. However, the ease of pitching and striking were noted, impressively done within 3-5minutes. Overall build is not that solid, but not that tacky as well. It was made with ultra-light backpacking in mind, and was successfully accomplished without compromising the quality of the materials. Given its aerodynamic contour, this tent is expected to withstand raging winds at any level.
Thing of concern is the flooring, as mentioned early it might be too thin to be comfortable on rocky terrains such as Tapulao. Addressing this concern is the footprint, though the one that I got have mismatched peg holes against the tent body. Another suggestion is to have your earthpad ready for a goodnight's sleep.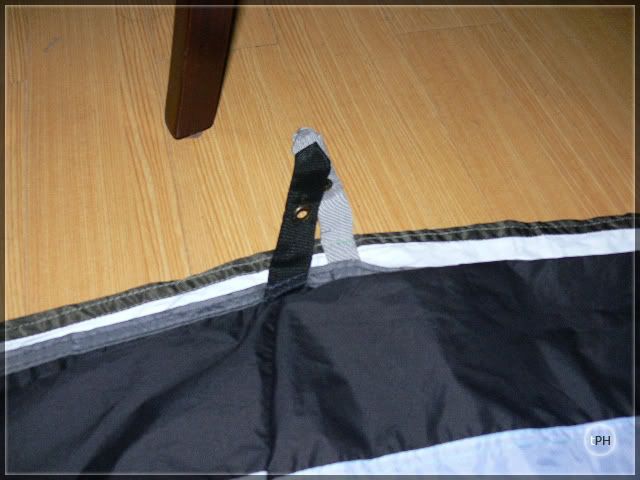 This gap is somewhat acceptable...
...but this one? Hmm, could this just be an isolated case?
Overall, I am extremely satisfied with the Apexus Tadpole, especially the fact that it was made locally. The support offered by Sir Terry is surely more than enough to sway you into buying Apexus products. Anyway, enough of the marketing; can't wait to proceed with the field test...
Unfortunately, we were not able to climb Mt. Apo – despite being already at jump off – because we were not given the permit. The day of our arrival was the very day the Philippines' highest was declared closed due to anticipated grass fires. Luckily, upon our return to Manila, it was declared open once again.
We will be scheduling another Mt. Apo climb this November, and no matter what happens we will push it through. Part 2 of the review will take place by then, as I will be refraining from climbing temporarily because my wife is on her 8th month of pregnancy with our first child. I will spend a couple of months with them before resuming my outdoor endeavors.
Apologies to Sir Terry for the veeeeery late write up. I just had our PC assembled after my battle-scarred laptop broke down.
Thank you for the time reading this semi-finished review.
http://tagabukidph.multiply.com/